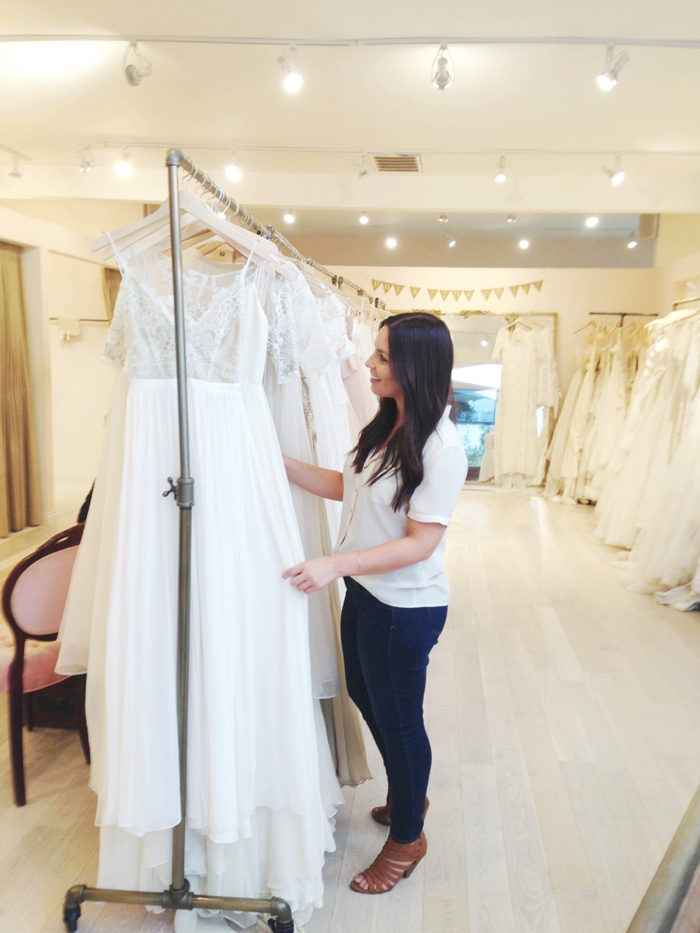 I have a confession to make…I actually bought my wedding dress before we were engaged. In my defense we had been planning our wedding for a couple of months already. We knew we wanted to get married in May and after reading about "the perfect time to buy your dress" I soon found out that the ideal time to buy one is 6-9 months before and we were already six months out. Insert freak out moment here. So the search began. A dress designer I loved was having a trunk show and there was only one day that I could go so I flew down my Mom and Aunt from up north, grabbed up my dear friend Mary and made an appointment. The day of I was incredibly anxious and nervous. I always envisioned myself being so relaxed and excited but when it came down it, my heart was racing as I walked into the boutique. Thankfully the ladies at Lovely Bride in West Hollywood were so great and I quickly snapped out of my little freak out moment and truly enjoyed every second of it. I tried on a ton of dresses, some I thought I would love, I didn't (figures, right?). At almost the end of my appointment my Aunt grabbed a dress off a rack that I was so sure wasn't for me. I tried it on anyways to humor them and fell in love with it. Funny how that happens.
A week later I returned with two of my best girls and tried it on for them. I fell in love with it all over again and am already counting down the days until I can wear it. It's such a weird thing, buying a wedding dress. You buy it, and then it has to be made so you don't see it for months. A dress you're going to wear during one of the most amazing and exciting days of your life. Blows my mind but the day is quickly approaching, ahem 92 days, and soon enough I'll be floating around in it.
I have to give a giant shout out to the girls at Lovely Bride, they were so accommodating, kept me at ease and let me try on a million dresses. Also, Gracias Madre has the best margaritas of all time and if you're buying your dress from Lovely Bride in West Hollywood, I definitely recommend hopping over to Gracias Madre for a toast like we did.
No, my dress isn't in these photos. No, Adam hasn't seen it. Yes, it's amazing.
ps. Exactly a week after I bought my dress Adam proposed. So I'm not that crazy after all 😉