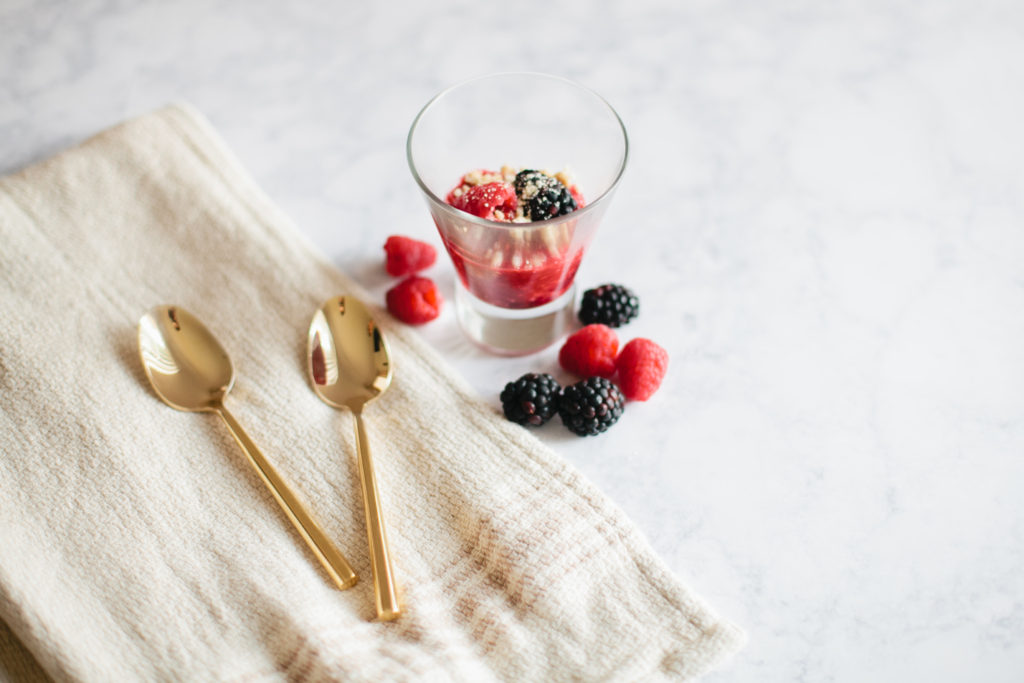 So this is our first food post and of course it's a dessert. I mean come on, who doesn't love a berry compote with crumble and ice cream? Not to mention some beautiful flatware from Target and pretty, simple napkin from Nickey Kehoe.
The Recipe:
Blackberry & Raspberry Crumble
Serves 2-4
Crumble Topping Ingredients:
1/2 cup flour
1/4 cup powdered sugar
4 Tbsp unsalted butter cut into pieces
Fruit Compote Ingredients:
6 oz blackberries
6 oz of raspberries
2 Tbsp butter
2 Tbsp brown sugar
1/4 tsp ground cinnamon
Vanilla ice cream to serve
Method:
1. Heat oven to 375 F. Then pour flour and sugar into a large bowl. Add the butter, then rub into the flour using your fingers to make a light breadcrumb texture. Do not overwork it or the crumble will become heavy. Sprinkle the mixture evenly over a baking sheet and bake for 15mins or until lightly colored.
2. Meanwhile for the compote, rinse the blackberries and raspberries. Put the butter and brown sugar in a medium saucepan and melt together over a medium heat. Cook for 3 mins until the mixture turns to a light caramel. Stir in the the blackberries and cook for 3 mins, then add the raspberries and cinnamon for another 2-3 mins. Then cover, remove from heat to continue cooking in warmth of pan.
3. To serve, spoon the warm fruit into an overproof gratin dish or cup and top with crumble and ice cream.
Enjoy!