I'm so excited to be sharing our sweet boys nursery today. So much love and so many hands went into creating his space and I couldn't be happier with how it came together.
I scoured Pinterest searching for inspiration for a boys nursery that wasn't filled with race cars or too animal themed. I know one day he'll ask for his walls to be filled with ugly cartoon posters so for now, I wanted it to be a calming space for all of those late nights. I wanted something different and loved the idea of wallpaper but I didn't want ALL of the walls to be wallpapered, so I stumbled upon a room that was paneled and knew that's what I wanted to do. My uncle is an amazing contractor in our area and he swooped in and made my dreams a reality. Brooks' room is by far the nicest room in our house and I'm already dreading the day he marks on these walls ha!
Finding the right wallpaper was HARD. Everything I liked was way too feminine but everything that screamed BOY was dark and harsh. I wanted it to still be soft and calm, so when I came across Joanna Gaines' line at Home Depot and found this print, I knew it was the one! It's neutral but still gives off the sweet nursery vibe I wanted.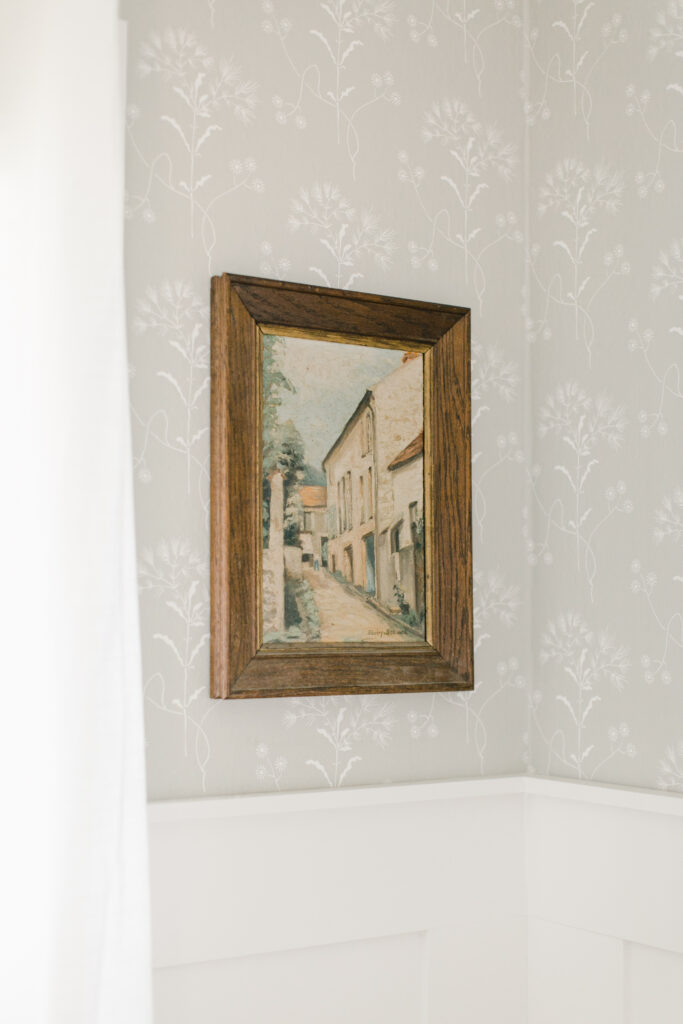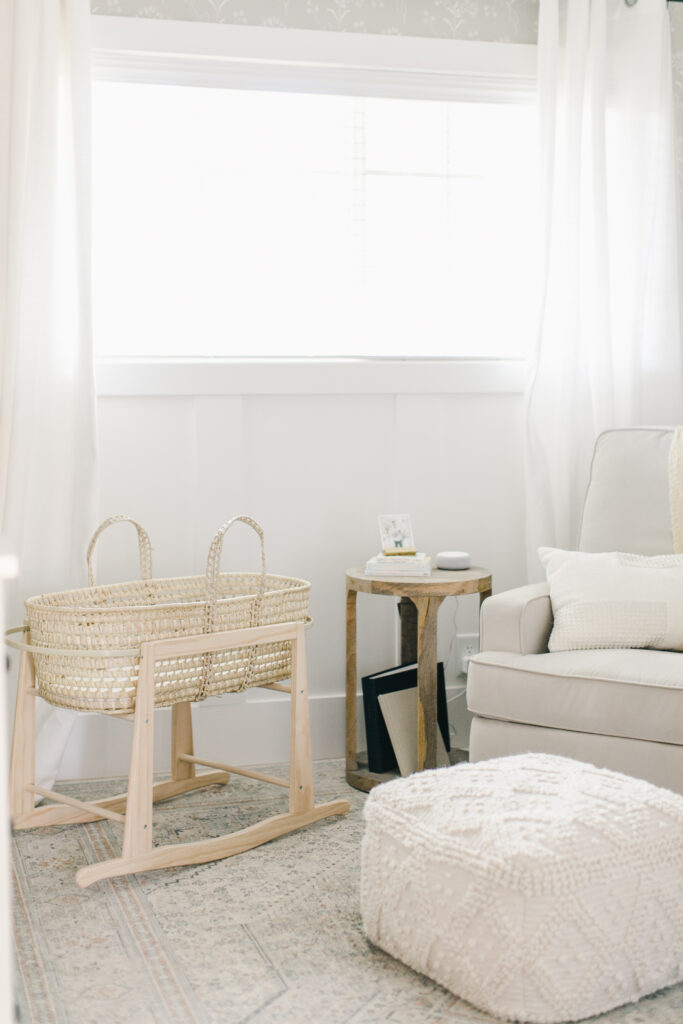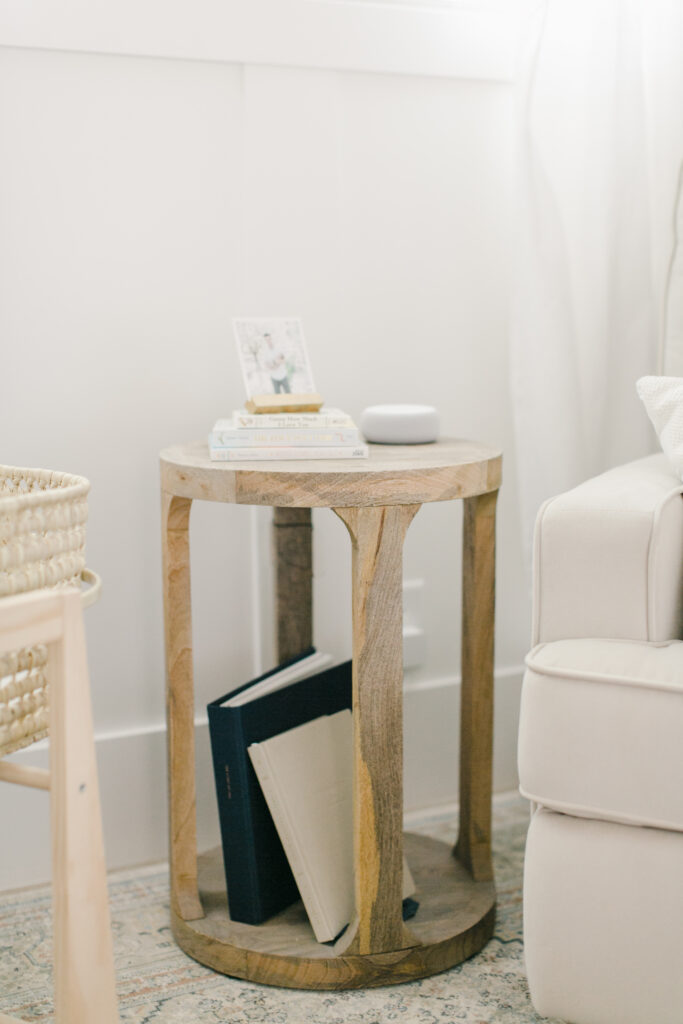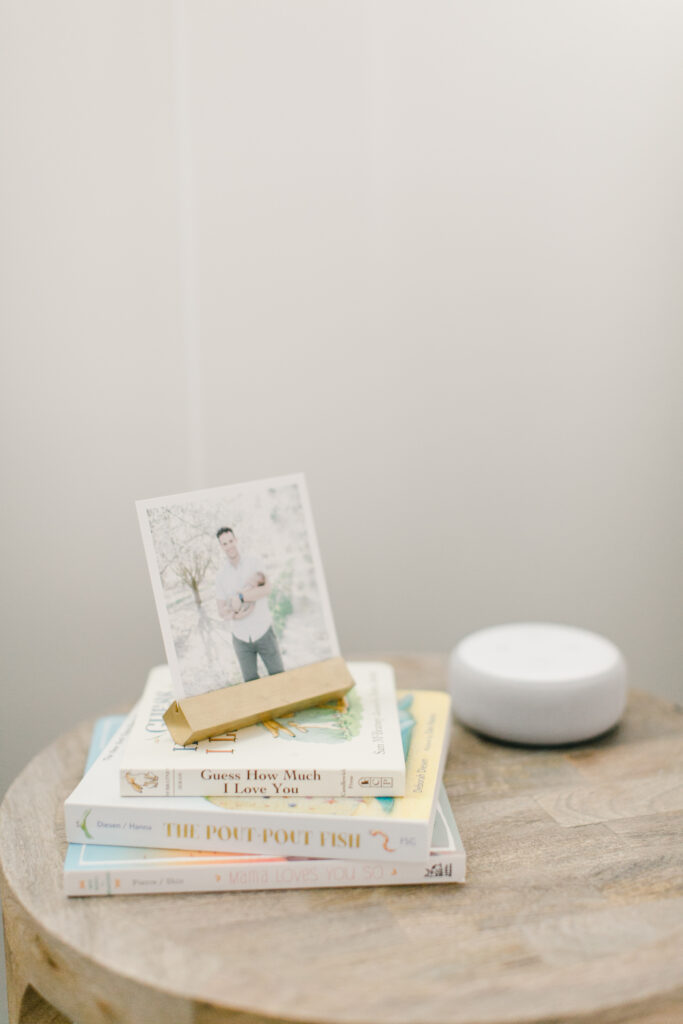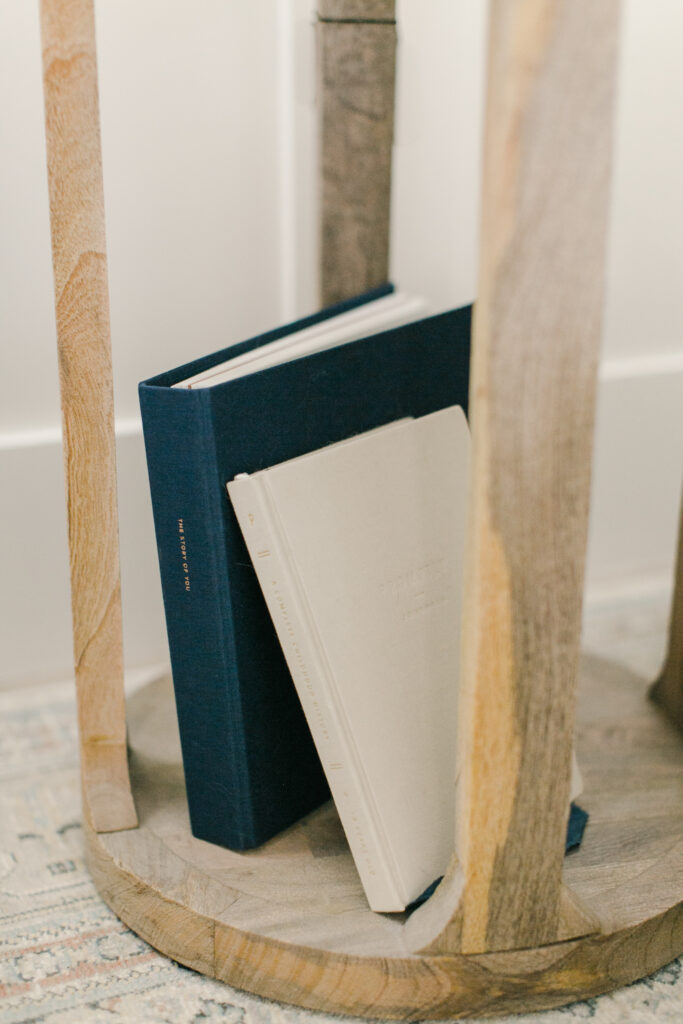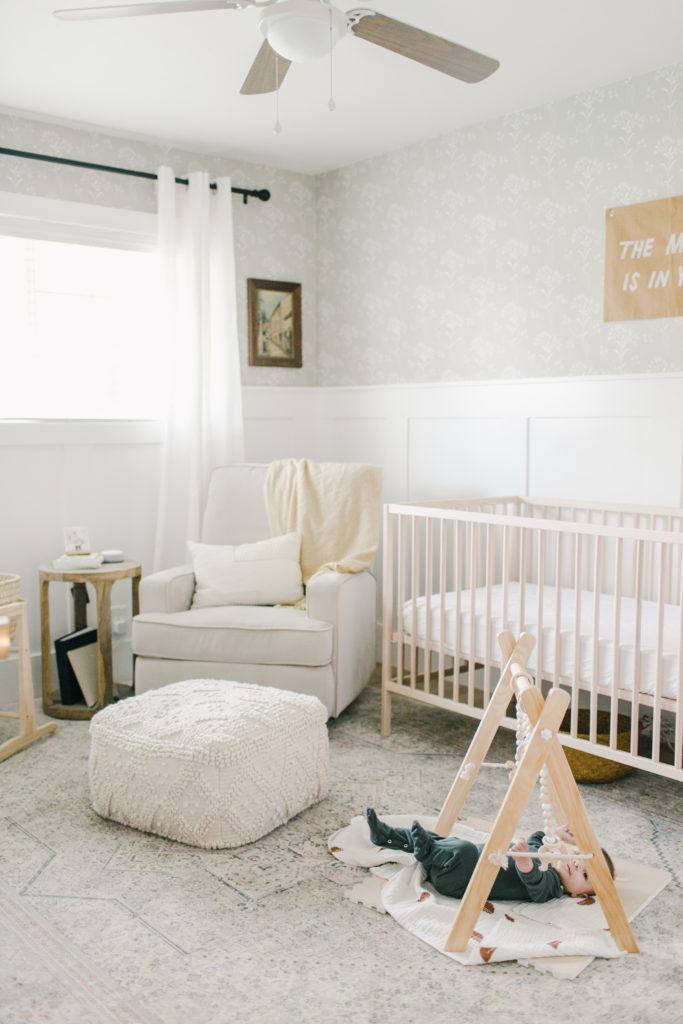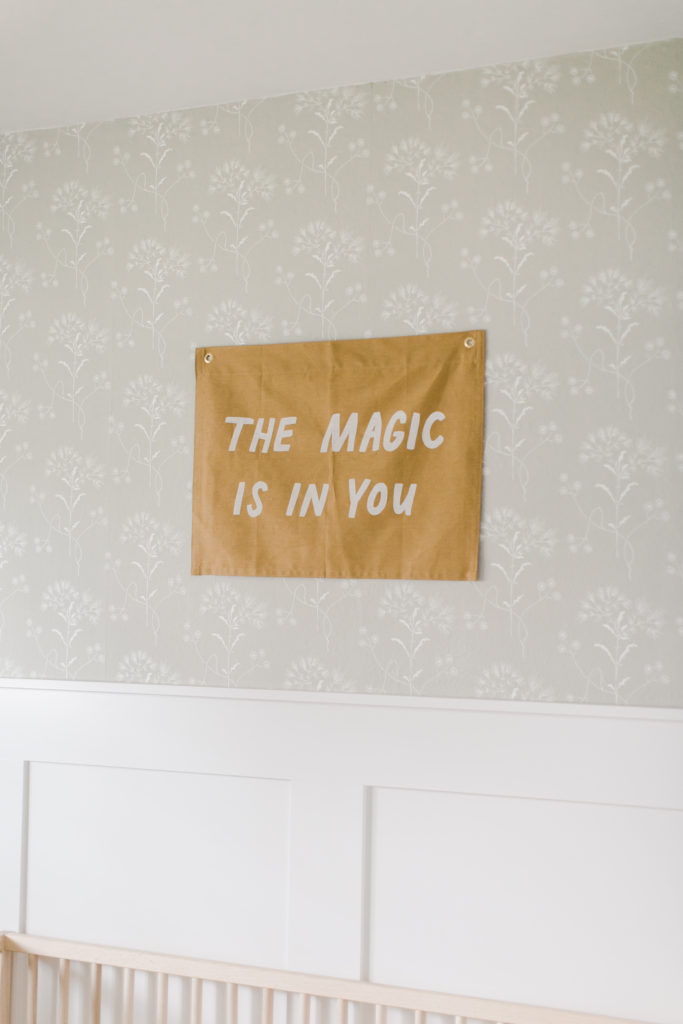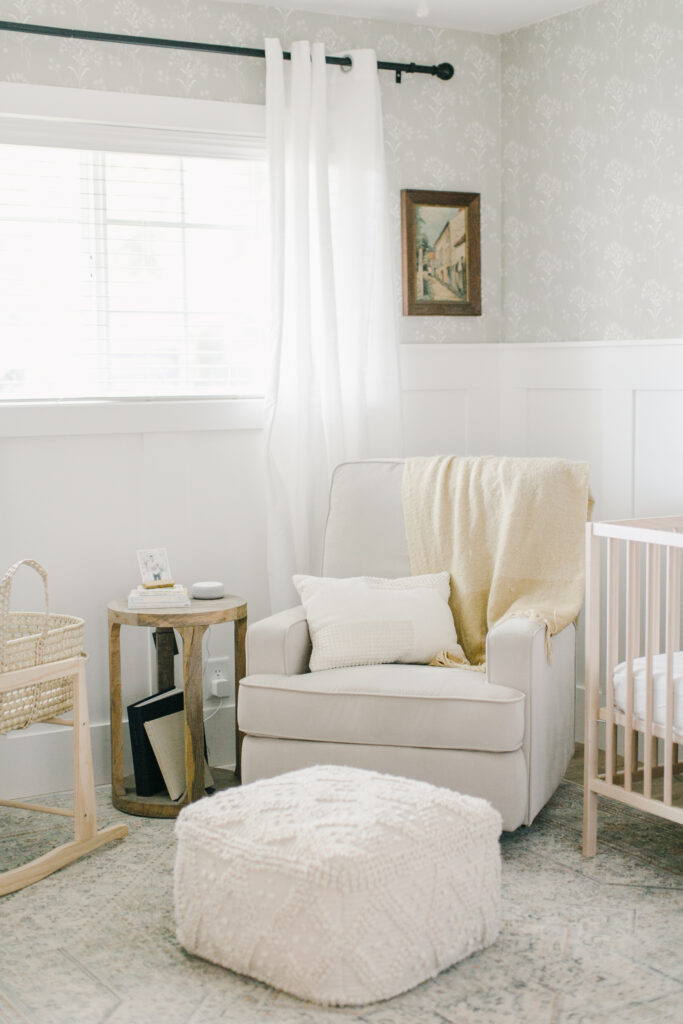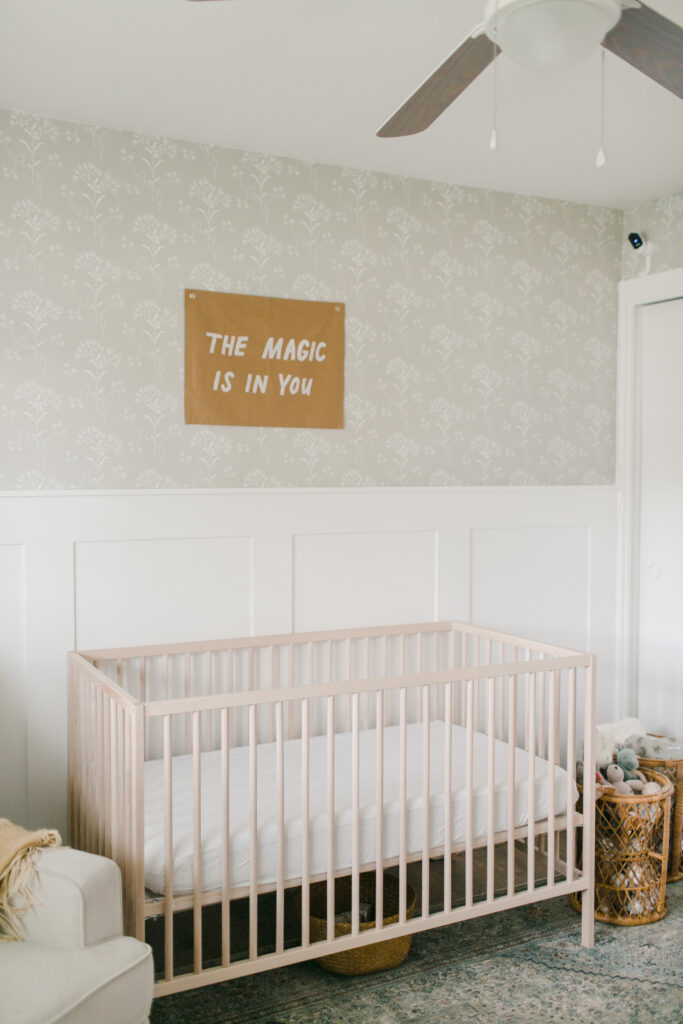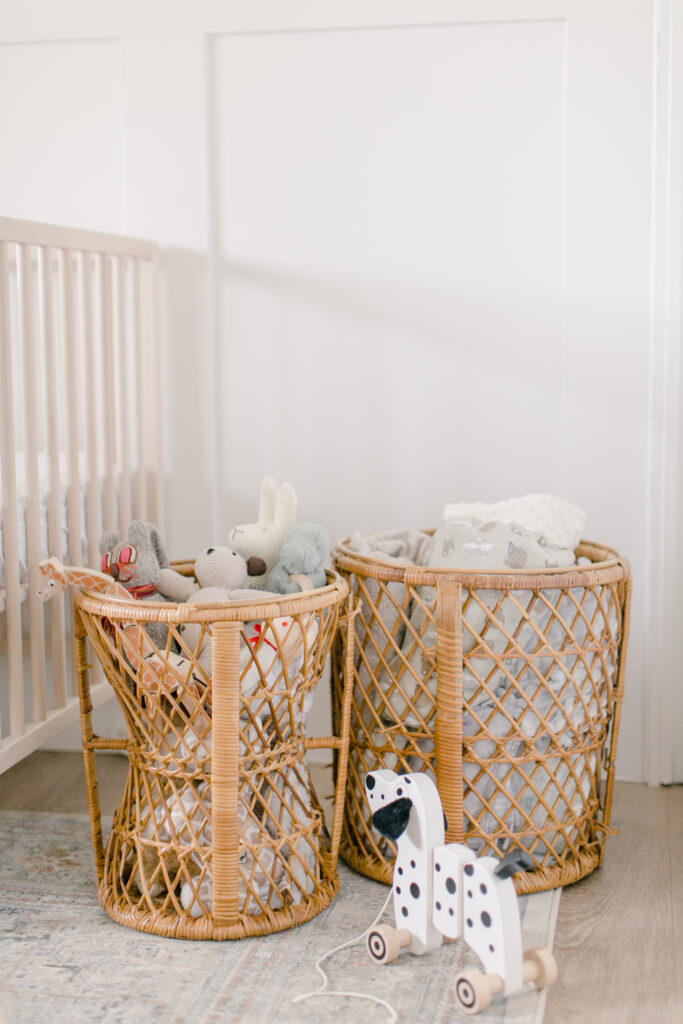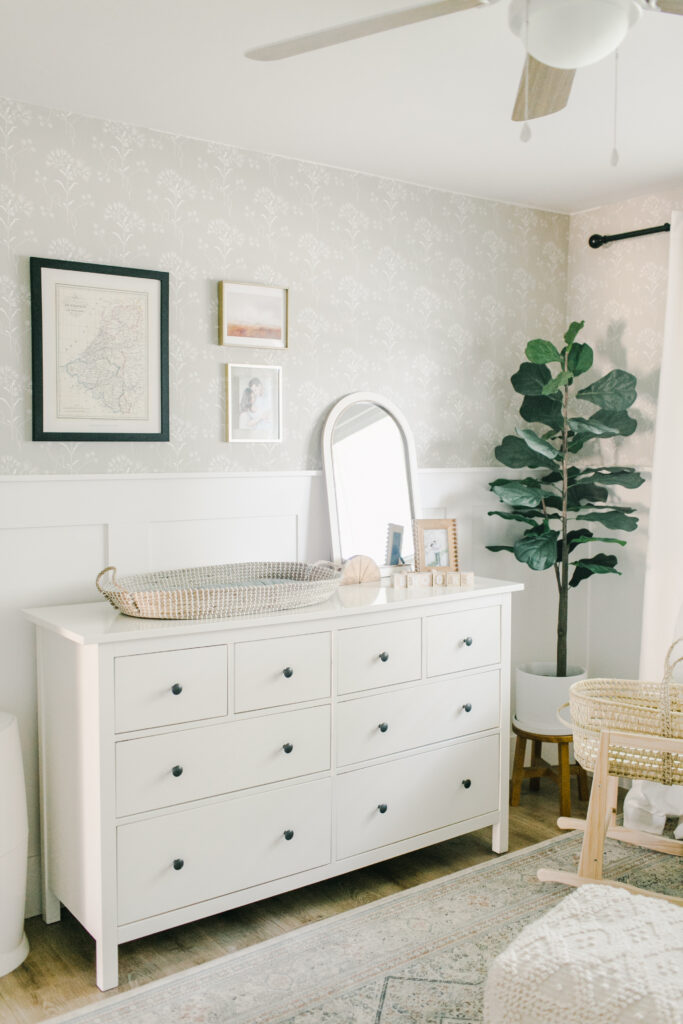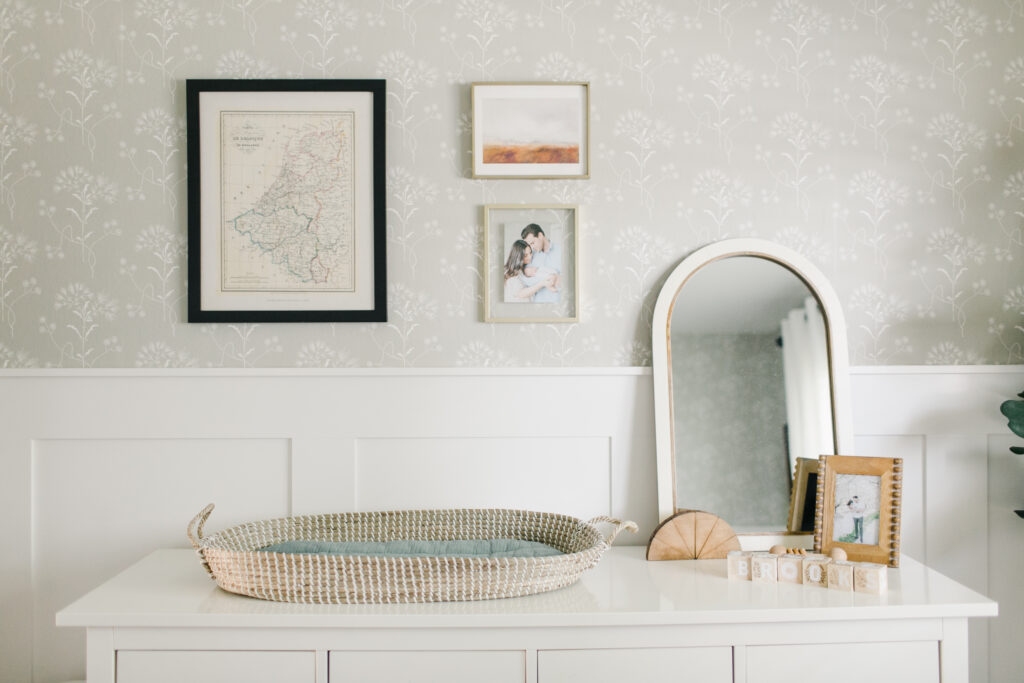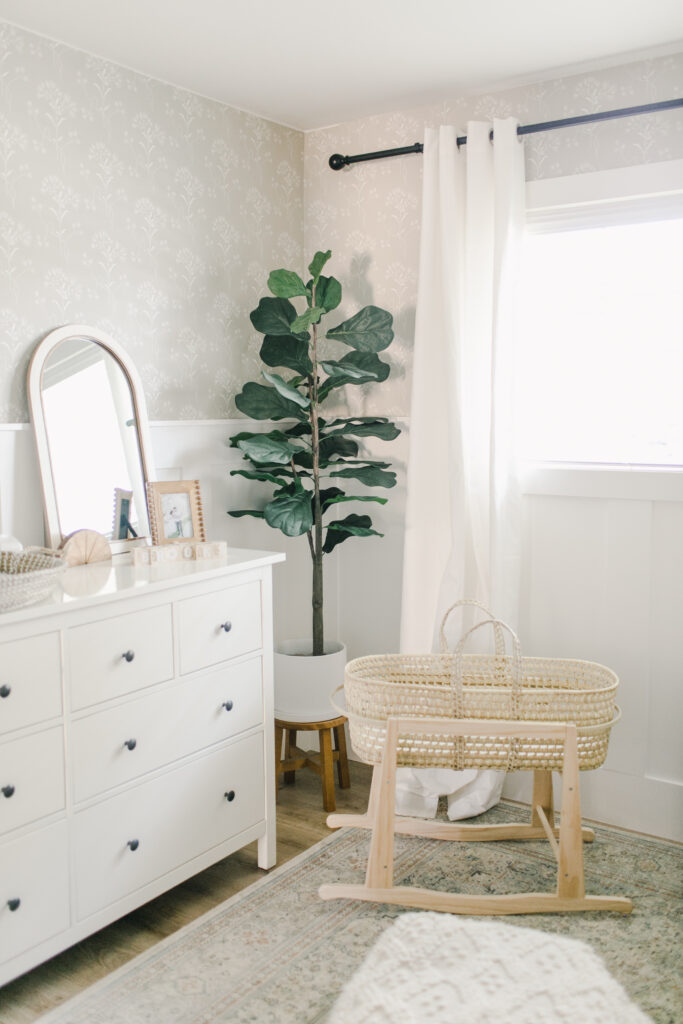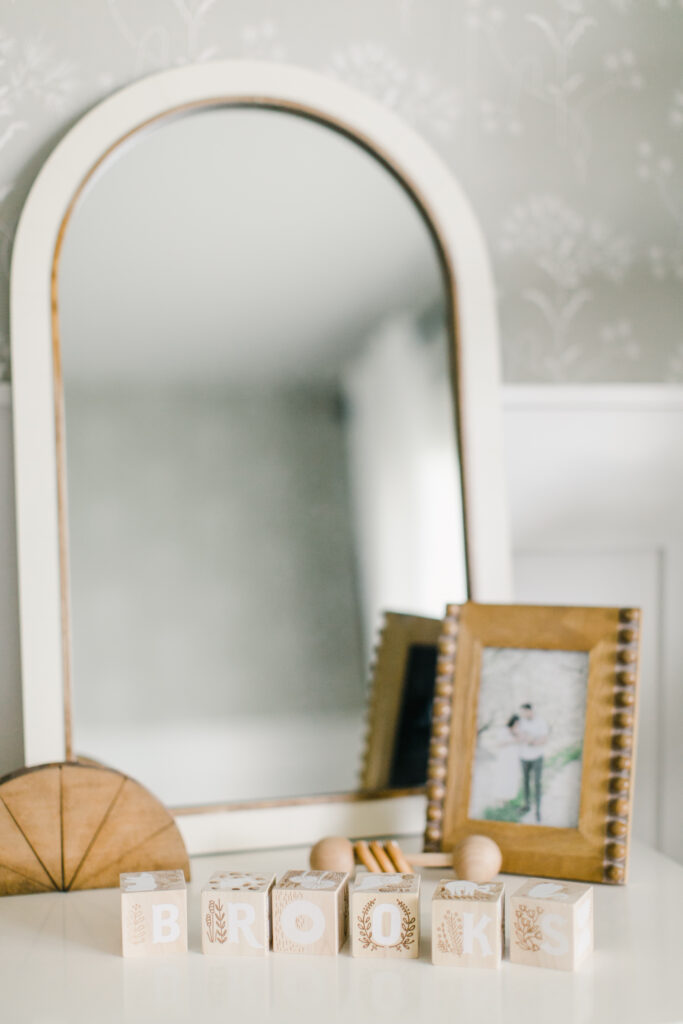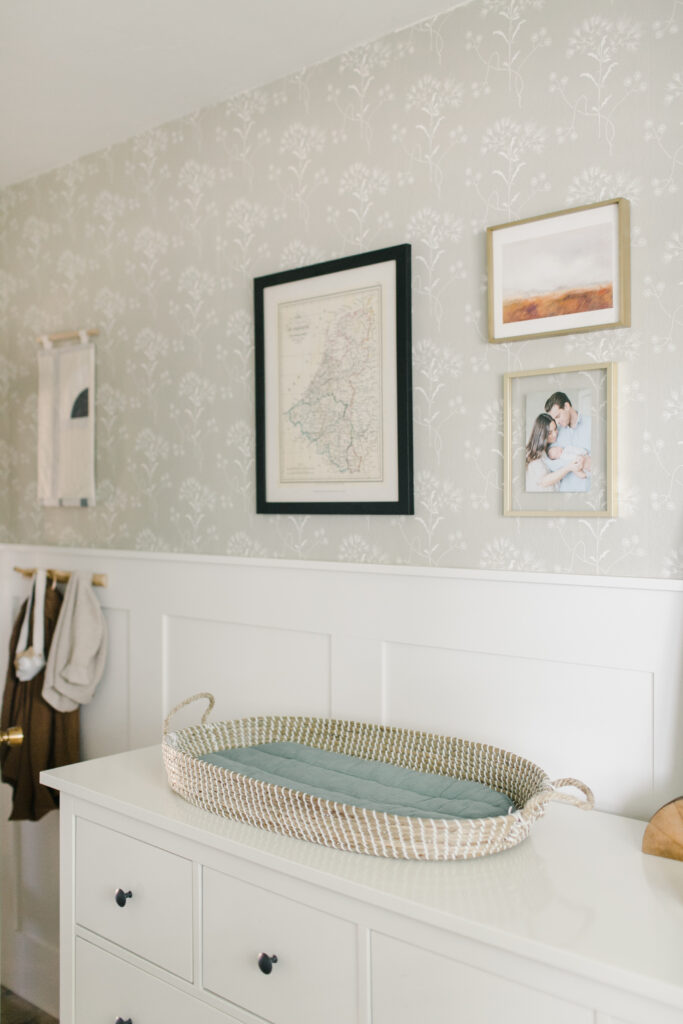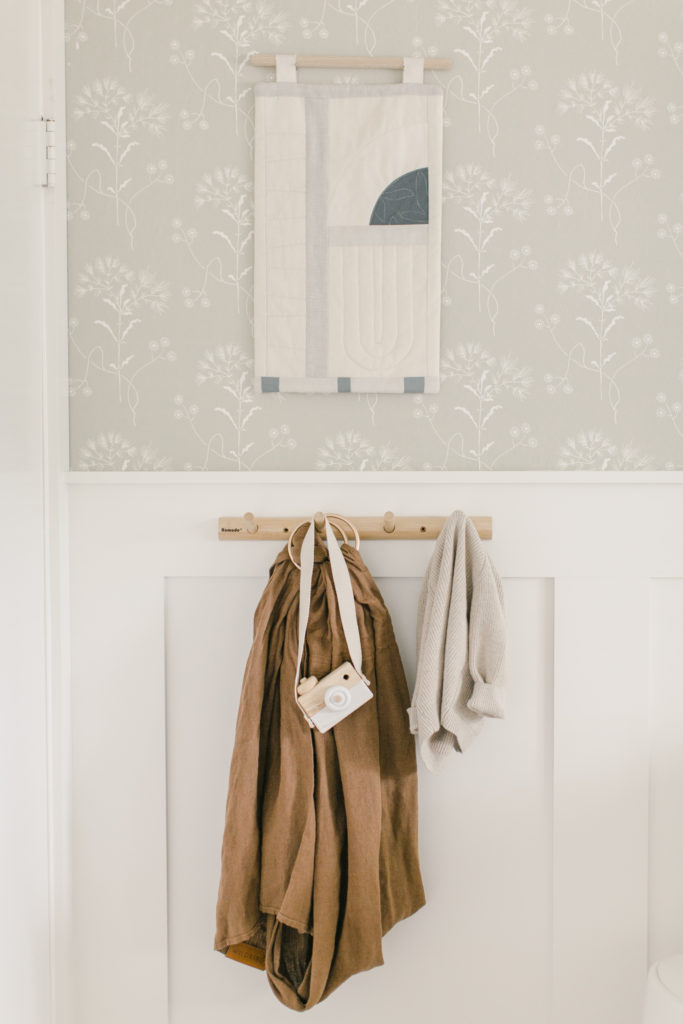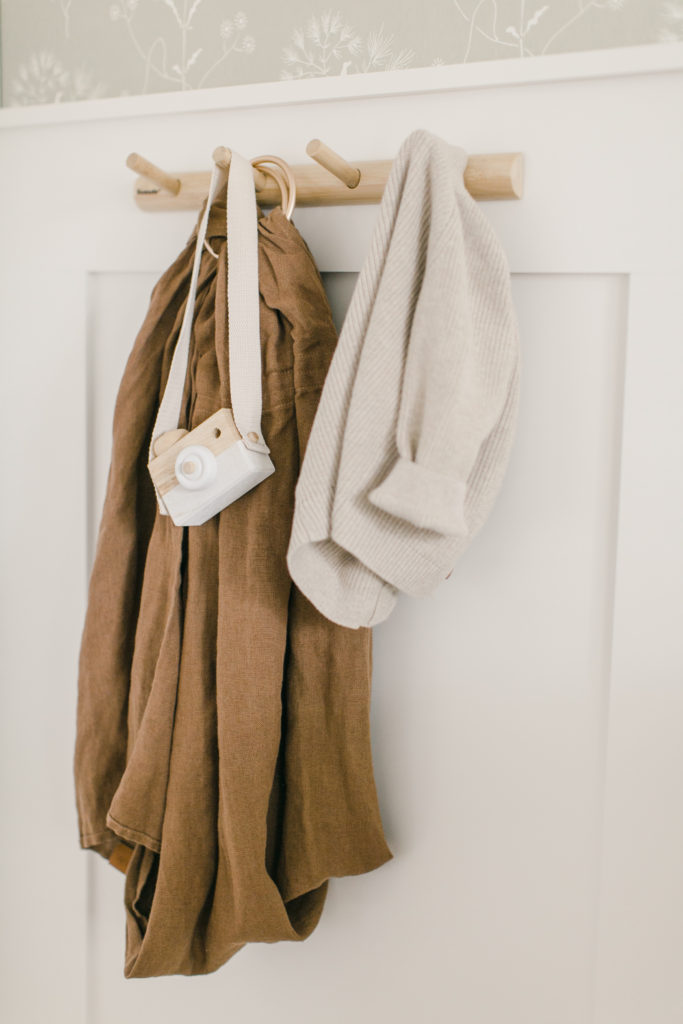 Sources
You can find just about everything on my Amazon lists. Click each one below to shop!
Rug: Rugs USA
Banner above crib: Secret Holiday Co
Side Table: Target similar
Wall Hanging: Saegan Moran
Art above glider: We picked this piece up from the Paris flee market and I love that it now has a home in B's room
Art above dresser: Large map was a piece Adam picked up from a trip to Europe, small landscape piece is from Minted, gold frame is Target.
Baby Books: I have two because I'm extra.
Artifact Uprising Baby Book & Promptly Journal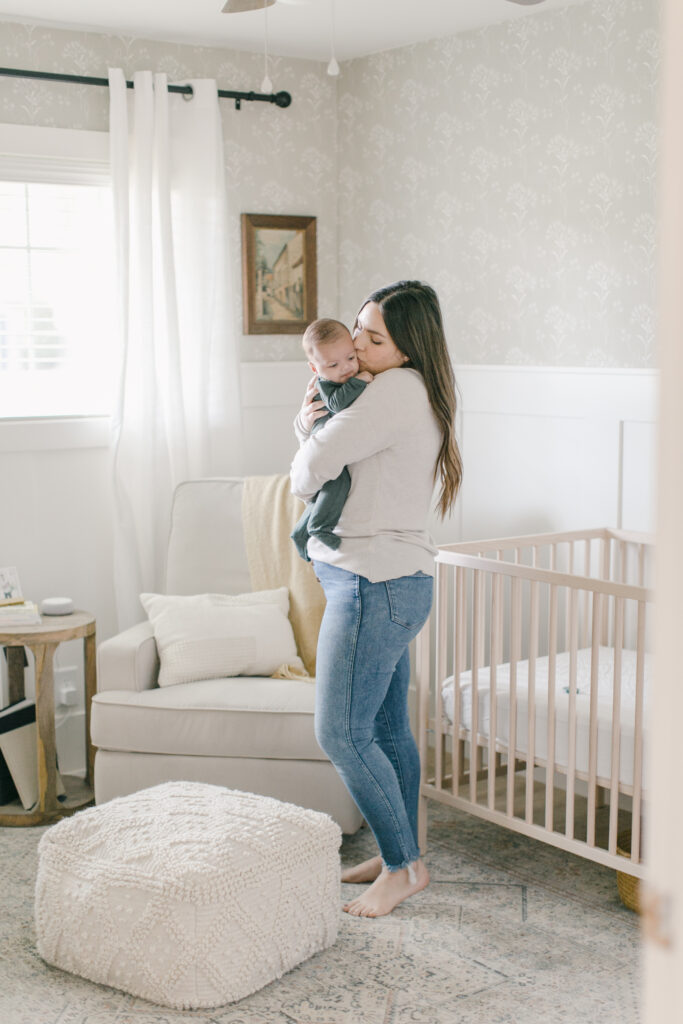 Okay, this is what our changing area usually looks like, to be honest. I just wanted it clean for photos 😉 I always have a waterproof changing mat on top of our adorable Olli Ella basket liner. It's so much easier to toss those in the wash and throw another on top. I was hesitant about a wipe warmer but since Brooks was a winter baby I feel like having a nice warm wipe is just the nice thing to do. We like ours, it's from Target, but I'm sure any that you find on Amazon would do, too! And lastly on the dresser is another night light. We have the Hatch rest in our room so we can easily check on Brooks while he's still in his bassinet, so Adam ordered this one and we really love how simple it is. It makes the middle of the night changes so nice and easy with the soft glow.