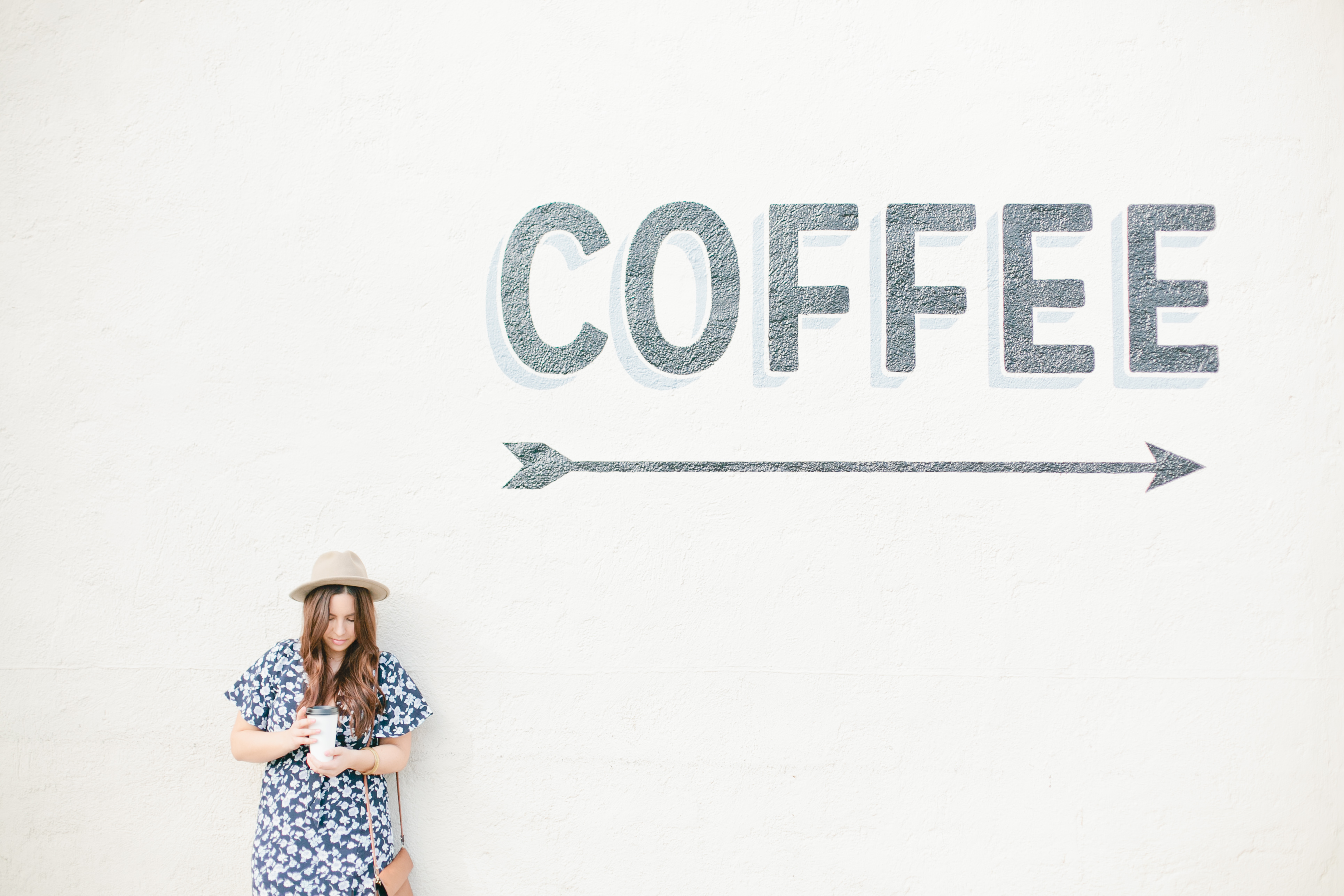 Have you heard of the online shop, Tobi? A client of mine, years ago, had the most beautiful dress for her boudoir session and she told me she got it from a site called Tobi. I've been a big fan of the brand ever since. I picked out a few of my favorite items from their site recently and wanted to show you how I styled them on a somewhat average day of mine. When I don't have a session to go to you'll find me at home for the majority of the day, sneaking away for a quick coffee date with girlfriends and hoping that once my husband gets home he steals me away from my computer for a little date. Dream day? Maybe.
Our mornings start out snuggling with our kitties and drinking coffee. We're super early birds and usually wake up before the sun rises. It's our favorite time together, before the emails are replied to, the lunches are made, and the hubby has to leave for work. We're usually cozied up on the sofa, with at least one giant fluff ball in our lap. Speaking of, let me tell you a quick story about our cats. We wanted to clean out our floor furnace to turn on our heater and once Adam opened it all up and starting clearing out the dust bunnies he uncovered fourteen cat toys. Guys, fourteen!! Our little miss Delilah thinks it's a fun game to shove her toys down there so now we've turned off our pilot light juuuust in case. With that all said, this sweater dress is the perfect thing to throw on in our chilly apartment.
Dress: Tobi Turtleneck Sweater Dress
Socks: Similar (super, super cute and on sale!)
Letter Board: Letterfolk
Cat: not for sale 😉
After Adam leaves for work my day begins. I start writing back emails, editing and checking my to do list. Being a photographer, there are many days I don't leave my house (the editing cave is real) but it's so good to get out. Rose Park Roasters is the cutest little coffee shop in our hood of Long Beach and I'm there weekly either for client meetings, dates with friends or just grabbing a delicious chai latte and bacon cheddar biscuit to take back to the cave. This floral maxi is the perfect thing to throw on for a girly date at this cute spot! It's also a little sassy if you wanted to wear it out to a date night with some cute platforms with your beau! I love how versatile it is.
Dress: Tobi Floral Maxi Dress
Shoes: Dolce Vita for Target booties
Hat: Yellow 108
Bag: Urban Outfitters
Once 6:30 rolls around I'm anxiously waiting for Adam to get home. We try to go out on a date once a week, usually to one of our go to spots for sushi or pizza but every once in a while we'll break out of our restaurant shell and try a new spot. We're dying to head to Rances for pizza soon and check out Roe's new restaurant. So many great spots here in Long Beach! This wrap dress is seriously my favorite. Not only is it super flattering, how can a wrap dress not be? But the color is perfect and can easily be dressed up or down. I love pairing it with my favorite vintage clutch and platforms. Gotta show off the gams on date nights!
Dress: Tobi Wrap Dress
Clutch: Vintage
Shoes: Dolce Vita Platforms
Bracelet: Pressed Rose Jewelry (Adam got this for me on our first Christmas as a married couple. It has our wedding date stamped into it and I LOVE it!)
Be sure to head to Tobi soon and take advantage of their 50% off site wide sale!
Save
Save
Save
Save
Save
Save
Save
Save
Save