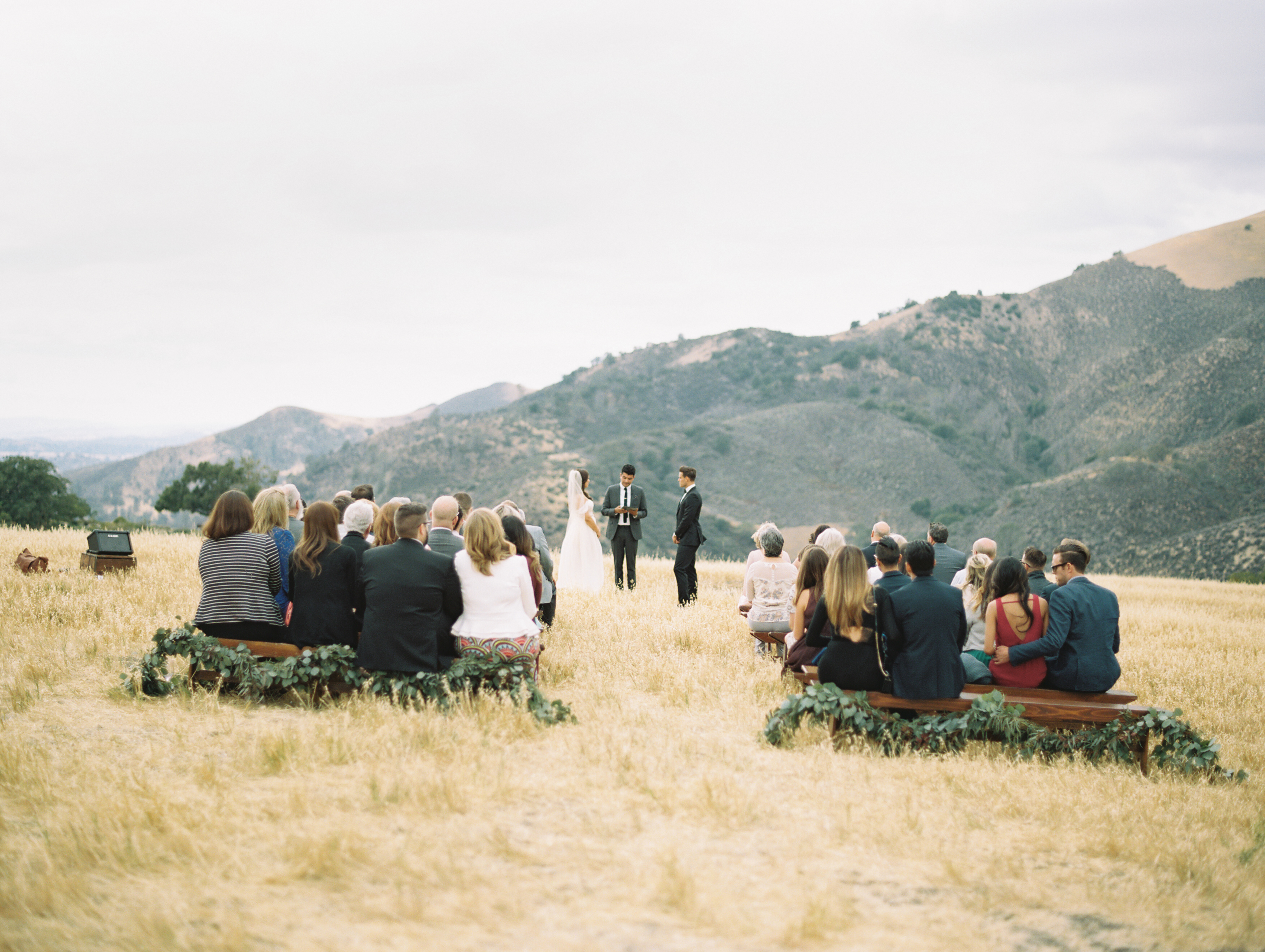 Our Wedding / The Ceremony
While planning our wedding the one thing we knew we wanted was a simple ceremony site. My (megan's) dream was to say I do in a golden meadow which maaaay be why May was the chosen month for our wedding date. I knew the grass would be golden and so when we booked Figueroa Farmhouse we made sure to tell the site manager to NOT mow the grass. We wanted that gorgeous tall, golden grass to be the main focal point. Choosing simple, wooden benches for seating was a no brainer since, again, we didn't want to take away from the view. And having Carissa of JL Designs add that simple eucalyptus garland to the back row was the perfect touch.
We decided early on not to have a bridal party. We loved our friends too much to make them do all of those duties 😉 Plus, we just knew we wanted it to be just the two of us standing up there and while we still had a best man and moh who made the most amazing toasts during our reception we were so happy to let everyone just enjoy the day.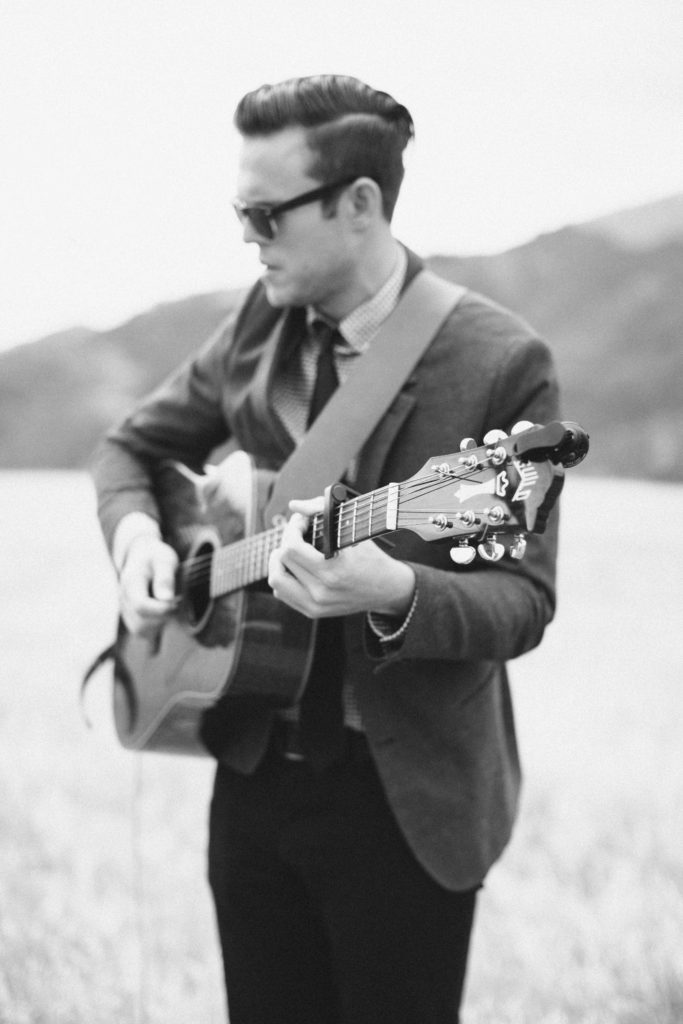 One of our favorite parts of the ceremony was how we incorporated our dear friends into making it so personal. We knew early on that we wanted no one but our talented friend Nick Shattuck to sing while we walked down (and back up) the aisle. Nick and I met at one of his shows years ago and as fate would have it, became great friends and it was so special to have him serenading us and our guests. We chose Sleeping At Last's version of I'm Gonna Be (500 Miles) yes, The Proclaimers song haha! But the version of that song that Sleeping At Last sings had me in tears all the days leading up to our wedding. And being big Johnny Cash fans we chatted with Nick and he suggested our recessional song be Ring of Fire which was SO fun to walk out to. We are just so thankful for Nick, his talents, and his willingness to take on a somewhat stressful responsibility. But he killed it, just as we knew he would.
The other amazing choice we made for our ceremony was choosing our dear friend Israel to marry us. We both knew immediately that he would be SO good at taking on this um, daunting task and it was really important to us to have someone who knew us both, as a couple, to the the one to marry us. We wanted someone more special than just a guy we found on the internet. But you guys, you should find someone on the internet now because he needs to make his own officiant website. He was so so so so good. We are so thankful for him for taking on this huge task and knocking it out of the park. We told him we wanted our ceremony to feel like a "romantic comedy" nothing too sappy, nothing too religious, but just us. And it was absolutely perfect. One of his opening lines was "Today, promises become permanent and friends become family. This day is not about the words spoken or the rings exchanged, nor is it about grand pronouncements or recessional marches. On this day, the day of Megan and Adam, it's about love." HEART MELT ALL OVER THAT BEAUTIFUL MEADOW. It was everything I could have dreamed of and even with the crazy winds whipping my veil around, it was the most perfect 15 minutes of my life.
Venue: Figueroa Mountain Farmhouse | Photographer: Brumley & Wells | Videographer: Eric Frank Cinema | Coordinator and Stylist: Beijos Events | Florist: Carissa Jowett of JL Designs | Invitations: Twinkle & Toast | Calligrapher: Poppyjack | Desserts: Sweet and Saucy Shop | Vintage Rentals: Borrowed Blu | Chairs, benches and bar: Classic Party Rentals | Tables and corn hole sets: Against the Grain | Caterer: The Pairing Knife | Dress: Sarah Seven from Lovely Bride | Suit: Klein Epstein Parker | Mr. & Mrs. Sign: The Duo Studio
Save
Save
Save