You may remember (and think we're crazy) that there was brand new laminate flooring in our house when we purchased it…..and we ripped it ALL OUT.
But my take on it is, why settle with something that's not going to make you happy? Especially when you care about your home as much as we do. It was the easiest choice to make, for me, and I would do it again in a heartbeat. Now, choosing our new flooring…that was a whole different situation.
But before we talk about that, let's take a look at what the flooring was like when we moved in. Oh gosh, AND that horrible popcorn ceiling.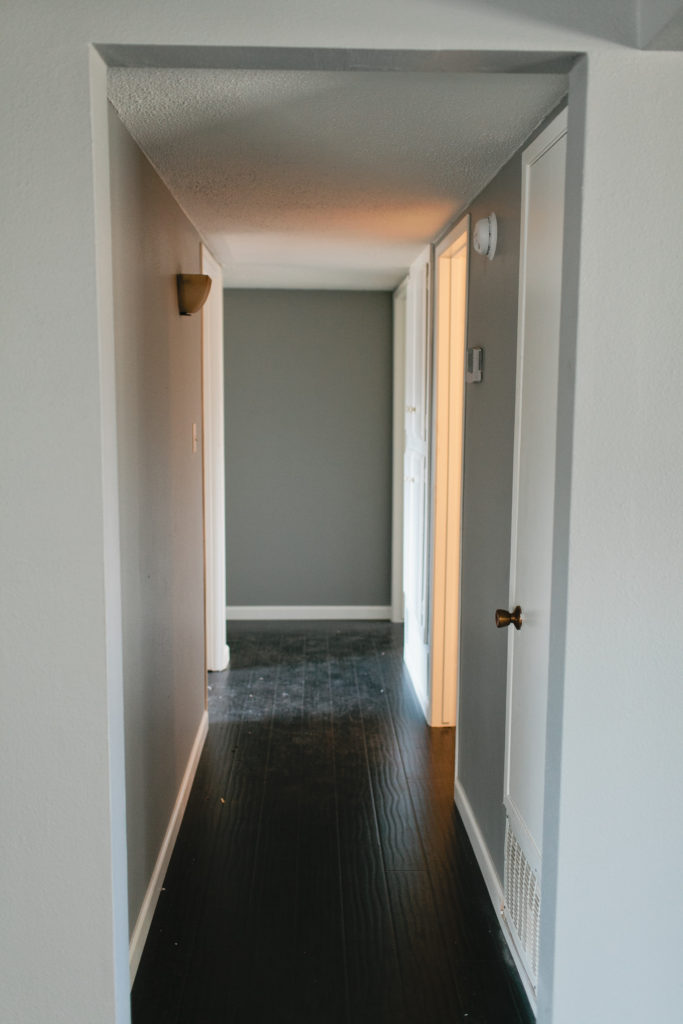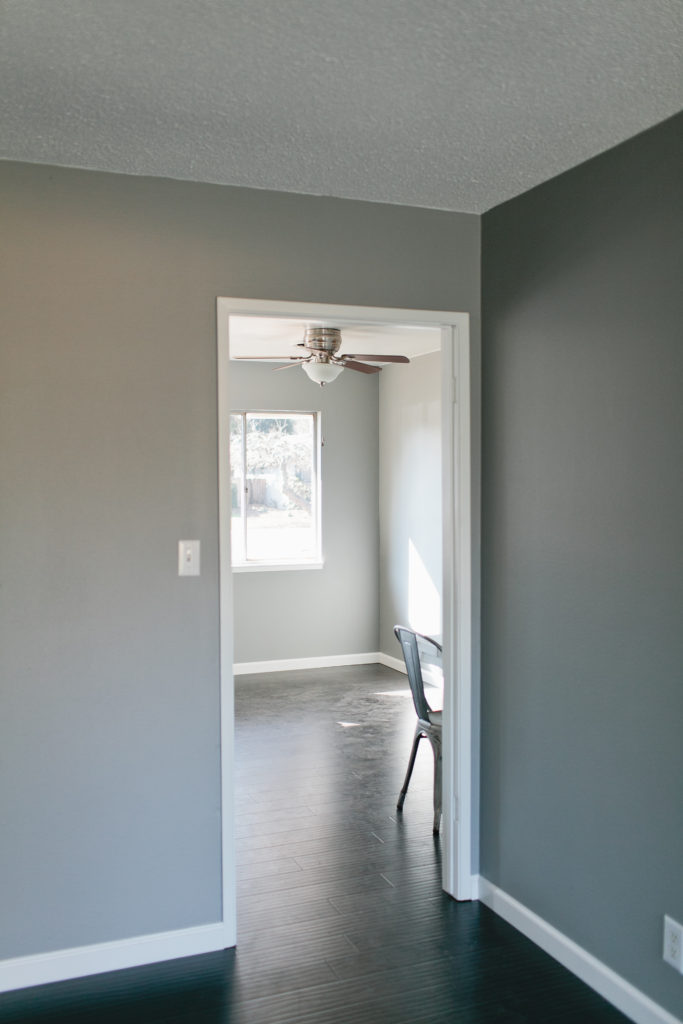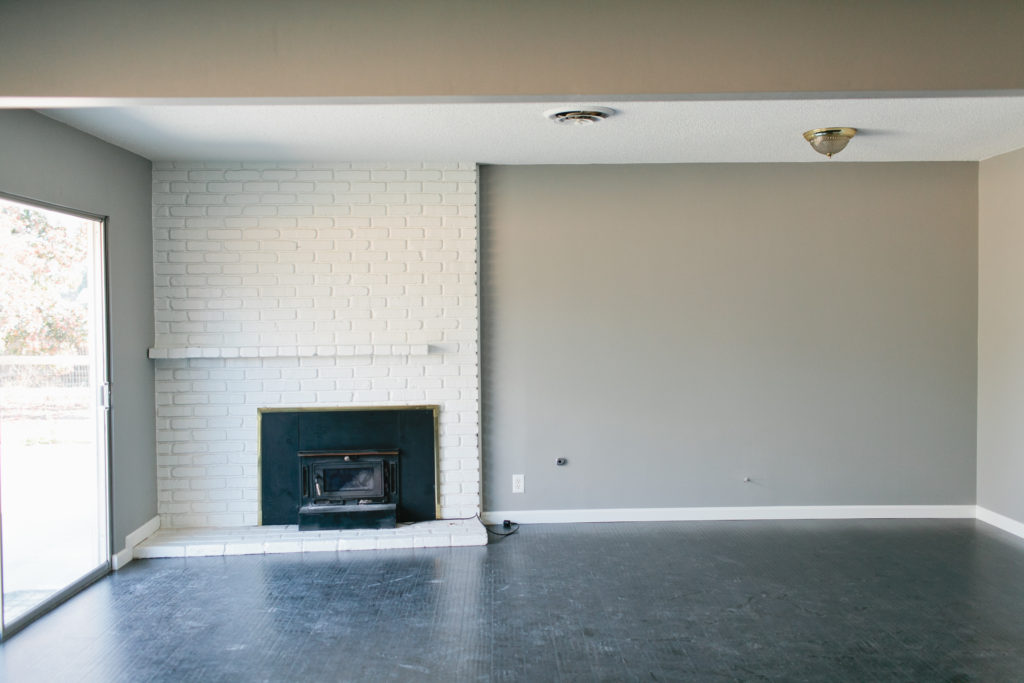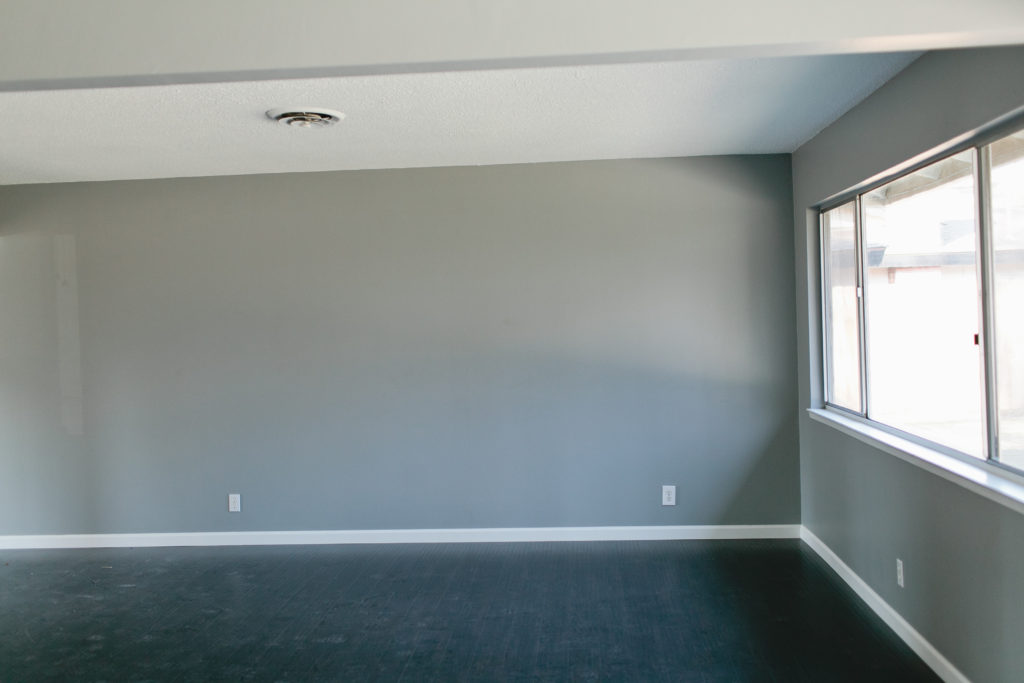 And what it looks like now. Ahh, it's so good, and really, even better in person if you can imagine. It photographs so differently in every lighting and room situation but I'm not even mad about it because it looks so good in each space.
Scroll down to read about how we found it and how we're liking it so far.
Choosing the flooring was much much harder than we first thought. I mean we want light oak flooring…easy as that right?
We looked through hardwood flooring (too expensive but so so amazing), LVT: Luxury Vinyl Tile, which was still actually really pricey and for some reason I just didn't love it. Even though it was on the higher price end, it somehow felt cheap to me (please don't take offense to this. A lot of people pushed this on us so it must be amazing. Just not for us). We just kept going back to laminate, and we're really happy with our decision.
So, we started our search for the perfect light oak laminate flooring. It's very annoying how expensive our taste is. We would fall in love with a piece and then realize it was $6/sqft. Um, not going to work. I mean, we just bought a house so we didn't want to have to shell out 10k for flooring (plus, that doesn't include installation). So we searched for probably three weeks, going through ten different samples from varying widths to laminate thickness. We'd get a sample, fall in love, and then get an email saying it's being discontinued and the search would have to begin all over again. These were a few we loved.
Then one afternoon, out of desperation, Adam ordered a random set of samples from Tecsun in City of Industry. The second we took it out of the envelope we knew it was the one. It had a heavy amount of grain and nice warm tones. One word of advice guys…hire someone to measure and quote your flooring square footage before ordering. Apparently our 1500sqft house doesn't need 1500 sqft of flooring. Anyone need 20 boxes of this stuff? Whoops. Sooo we have a few boxes left over but we're sure we will need it in the future (kitchen remodel anyone?). In the end we hired out the flooring installation and in two days it went from a construction site to a home and we couldn't be happier.
We have one con, and one con only, about this laminate. The actual surface of the flooring is pretty thin and a spot has already worn through on one of the planks (a tiny spot, but still). Now, maybe something heavy fell on it or it was just a poorly manufactured plank but that being said it's still beautiful and we still love it a ton and highly recommend it.
Credits
Laminate: Tecsun Macadamia Oak Flooring (There are a ton of places that carry this laminate. This company is who we found to be the most cost effective with delivery included.)
Rug: Edetta Faded Dendrite Rug
Hall Sconce: Sea Gull Lighting