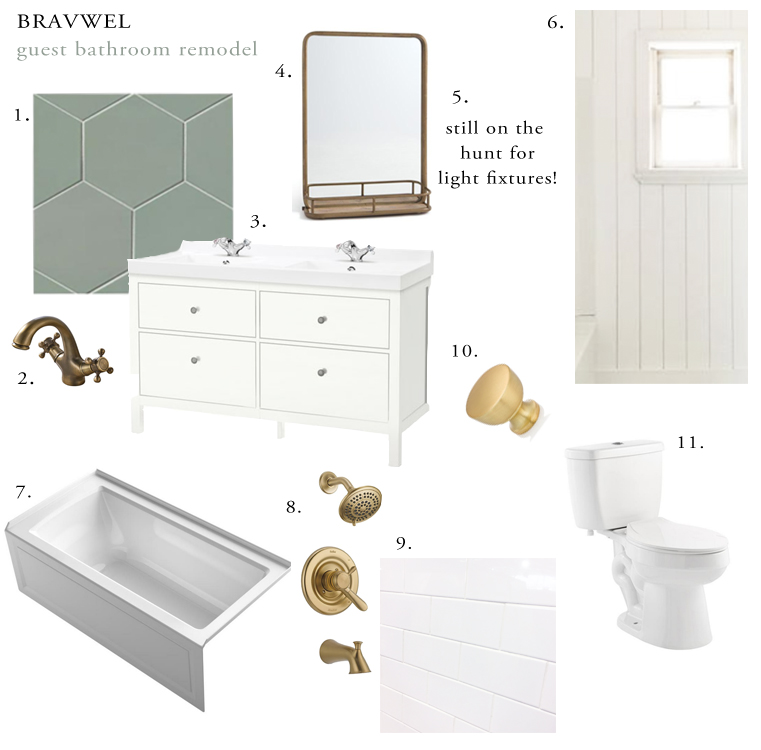 Guest Bathroom Renovation – The Plan
We are finally getting to our guest bathroom renovation project! Two (well, maybe more) months in the making. Here's the thing. I figured that my Mom and I (megan) could just tile the bathroom ourselves. I mean, how hard can it be? The thing is, it's not necessarily hard but the prep that you have to do beforehand should probably be left to the pros. So, once I realized that and we found a great tile guy, he was a little over a month out. Shows that he's pretty amazing though, right? So that leads us to today! He started prep work on the bathroom yesterday and I'll be sharing a full before and during post in a couple of days to show some progress but I wanted to show you all our vision for the space first! If you don't know us well, then know that white is a must have around the Bravwel home. I mean, clearly. I know there isn't a lot of color in our plan but the floors will soften up the room so much and we plan on having a really beautiful rug to liven up the space and warm wood shelves above the toilet aaaand probably in the space behind the shower (see what I'm talking about in our stories on Instagram). This moodboard already makes me so happy. I cannot wait to see it all come together! The only thing missing is lighting. We are having the hardest time deciding on light fixtures for the vanity. Do we want two, each above the mirrors? One in the middle of the mirrors? (Adam doesn't care for this plan) Orrrr something else? I figure we have some time, but not much. For now, we have a beautiful plan and I can't wait to share the process with you all. Scroll down for all that we're doing and for an exciting offer for you all!!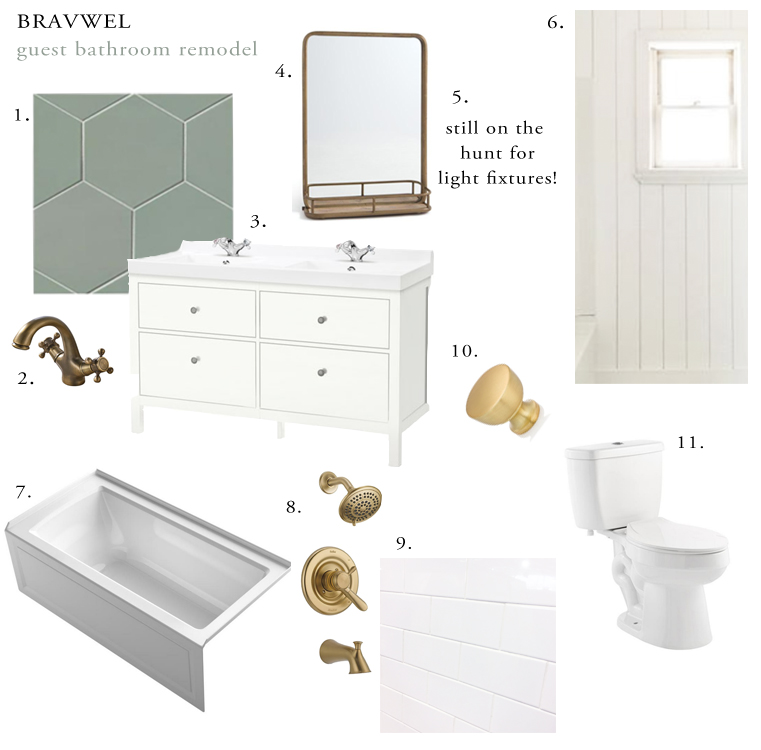 1. Floor Tile (this may be my favorite thing about the entire renovation) The gorgeous sage green (or gulf, as it's called) hexagon tiles are from Exfloorit and you guys…The amazing people behind Exfloorit want to give our followers 10% off their order until July 7th. Head over to their site (or if you're in the LA area, they just opened the most amazing showroom. We're dying to go) and pick yourself out something real nice. Make sure to use Bravwel10 at checkout!
2. Brass faucet
4. Shelf Mirror – I just love these mirrors. I envision putting a tiny little bud vase with some flowers on the shelf and it already makes me so happy
5. UGH
6. Shiplap – we're doing vertical shiplap like the photo above in the entire bathroom. I think it will add the perfect texture.
7. Soaker Tub  – This 19″ tub is already calling my name.
8. Brass Shower Faucet Set – TGFA (thank god for amazon)
9. Subway Tile – we're doing simple white subway tile with white grout in the shower
10. Brass knobs – we're changing out the knobs on the ikea vanity for these
11. Toilet – the flush on top options make me feel fancy
More to come so very soon!!